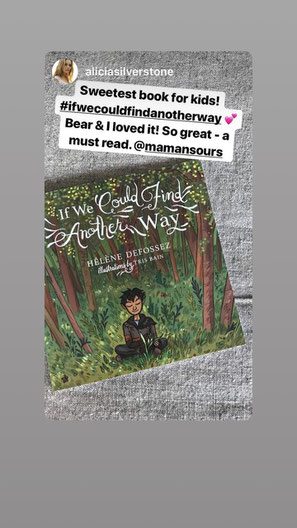 Hello everyone, I've got some very exciting news to share with you: Alicia Silverstone (yes, the one!), wrote about my children's book If we could find another way on her IG and blog page that she and her son Bear loved it and that it is a "must read".  
I can't stress enough how deeply honored and happy this endorsement makes me feel, I've always felt Alicia was an amazing person (and not only because I was a teenager in the 90s!!!) a talented actress who somehow became one of the most important figures of the vegan movement in the US, using her celebrity to show people the way to a kind life. In my journey to a kinder and healthier life, she's been a major inspiration to me. So, as you can imagine, knowing that she read and enjoyed Tim's adventures means more to me than I can say.... 
Anyway... if you don't know it already, please check out her amazing works The Kind Diet and The Kind Mama and beautiful community at The Kind Life! 
---