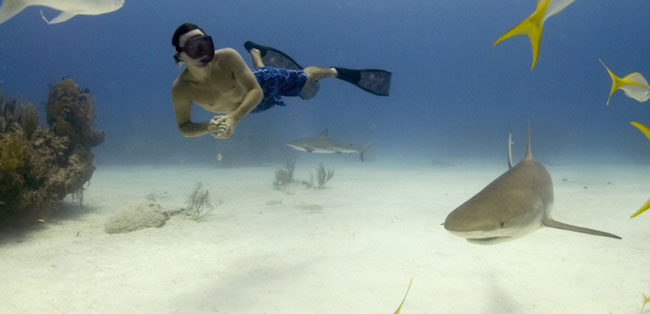 ---
Dans la vie d'éco activiste, il est des personnes qui ont un impact particulier, qui par l'exemple de leur vie savent inspirer, redonner de la force lorsque l'on se sent découragé dans ce combat difficile… Rob Stewart, le défenseur des requins a été pour moi un de ceux-là. C'est la raison pour laquelle j'avais mentionné son documentaire Les seigneurs de mers dans mon premier livre. 
Rob a quitté ce monde tragiquement il y a quelques jours alors qu'il filmait la suite de son documentaire sur les requins Sharkwater 2: Exctinction. Il n'avait que 37 ans et je ne peux pas m'empêcher de penser à tout ce qu'il avait encore à nous apprendre, à nous montrer. Si j'écris aujourd'hui c'est avant tout parce que je suis en deuil d'un grand défenseur des animaux et de la planète, que sa disparition me touche profondément… 
Le seul réconfort est de penser à l'influence considérable qu'a eu son travail: après le film Sharkwater qui levait le voile sur l'immonde commerce des ailerons de requins, de nombreux pays l'avaient interdit, un victoire qui montre que chacun peut avoir un impact important sur le monde. 
Comme je l'ai déjà dit, il n'y a qu'une seule façon d'honorer sa mémoire, c'est de continuer à se battre comme lui, sans peur, sans relâche, pour essayer d'apporter au monde un peu plus de compassion, de justice et continuer de s'émerveiller de sa beauté. 
Pour en savoir plus sur Rob et sur les requins, visitez sa page officielle
---
In the life of an eco activist, there are some people who inspire you in a powerful way, who by the example of their life can give you strength when you feel discouraged and alone in this difficult fight… Rob Stewart, the great conservationist and shark defender, was one of those people for me. This is why I had mentioned his work in my book, A plate of Resistance. Rob tragically left this world a couple days ago as he was diving off the coast of Florida to shoot a scene from the sequel to his first documentary, Sharkwater 2: Exctiction. He was only 37 and I can't help but think of the time he had ahead of him, all that he had to teach us, show us. I am writing today because my heart is broken for the loss of one of the best eco activist we had.
The only comfort is to think of the incredible impact of his work: after the release of Sharkwater, many countries banned shark finning all over the world. And this will continue cause I am confident that such a powerful work creates ripples that go on forever. 
As I already wrote, the only way to honor his memory now is to keep fighting like he did, as a true warriors, with no fear, relentlessly. To keep trying to bring more compassion and justice to this world and celebrate it's incredible beauty. 
To learn about Rob and sharks conservation please visit his official page
---
I think this sums it all, best tribute to Rob Stewart I read, I think: 
« Rob knew that true understanding must happen with the heart. Ten years after its release, people still remember Sharkwater. They still talk about it with energy and emotion. And this is because Rob did something most environmental films — and dare I say, the environmental movement — fail to do: inspire us. He reminded us why we are privileged to live here on Earth. He showed us that the world is still a breathtaking and mysterious place that deserves to exist. In short, he did what stats and data cannot: he showed us the beauty. He had this uncanny ability to see it where others might not — in sharks, in our depleted world, in us... and then, to share it. » Sarika Cullis-Suzuki
---